<!–– avatar goes here -->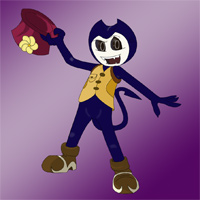 <!–– post above info -->
Posted 09-15-2020 19:37:51
<!–– post message -->
So right now I am in the process of crocheting a 60" x 60" blanket.
I made up my own pattern which is -after making a foundation chain and a supportive row of single stitches- is 3 rows of Single Crochet, 4 rows of Half-Double Crochet and 2 rows of Double Crochet.

After using a skein of the Premier brand 'Puzzle' Tangram color pattern then I switched to Hangman color pattern. Once that is done I will go back to Tangram and once done I might crochet a border around the entire edge to make it look a bit nicer.

I think I like crocheting better than knitting, you can easily work larger projects and don't have to worry about stitches slipping off the needle or realizing that somewhere you dropped a stitch and have to do all sorts of knitting acrobatics to fix said boo-boo. PLUS with crocheting you are not restricted to working on a tiny tip, you just make a stitch then go on.....
<!–– signature info -->